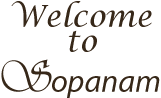 HERITAGE
GURUVAYOOR - "A Jewel in the Crown" of God's own country.
Introduce yourself to a land that sways to the rhythms of nature the dance of the palms and a blue sky that changes its colours in tune with the beautiful, tranquil surroundings. You will experience that every day you stay at SOPANAM HERITAGE.
SOPANAM HERITAGE is a hotel with
state of the art amenities: rooms, suites with all modern comforts,
restaurant & banquet hall, Being located in the most important pilgrim
centre of South India, SOPANAM is designed to attract the cream of
domestic and international guests.